Steadily arthritis is becoming highly prevalent in the US. As per research by the Centers for Disease Control and Prevention (CDC), approx. 50 million people were diagnosed with some form of arthritis. Though it is most common in adults or people above 65 years, it can affect all age group including children.
Osteoarthritis (OA) is the most common form of arthritis among citizens. Some rheumatic conditions of arthritis are gout, fibromyalgia and rheumatoid arthritis (RA). As per medical practitioners, rheumatoid arthritis and lupus may affect multiple organs and cause widespread symptoms. There are treatments available to avoid the same such as surgery, joint replacement, non-pharmacologic therapies, etc. These treatments are expensive and time taking. Another way to be relieved from symptoms of arthritis is practicing yoga.
Yoga and arthritis
Yes, apart from many physical and mental benefits, yoga has been proven to relieve people from arthritis. A study was conducted on a group of people suffering from various types of arthritis; half of the group practiced yoga while the other half didn't. It was found that the group that practiced yoga experienced reduced joint pain, improved joint flexibility and functions, lowered stress and tension and slept better. In fact, yoga teacher training in India believes that performing yoga poses with synchronized breathing and meditation exercises provides additional benefits to the body.
Scientific studies on arthritis
Scientific studies have been made to study the effect of yoga on people suffering from knee osteoarthritis (OA). It was found that practicing modified Iyengar yoga for 90 minutes once a week for 8 weeks recorded significant reductions in pain. It also improved their body functions and joint stiffness. This is because modified Iyengar yoga allows participants to use a chair, blocks and other yoga equipment. It modifies the yoga poses to be practiced by the patients.
Another study was conducted to study the effect of yoga on a group of women suffering from rheumatoid arthritis (RA). It was found that practicing Iyengar yoga for six weeks reduced pain and disability. It also enhanced the working of joints as well as their mood.
From both the studies, it was concluded practicing yoga under an experienced yoga teacher brings more significant changes in pain as well as other symptoms. A yoga teacher will understand the requirements of an arthritis patient and will modify the poses accordingly.
Benefits of yoga on arthritis patients
Every yogi has its own intention behind yoga practice. Some may want to lose weight, build strength and stamina, reduce chronic pain in the body, achieve higher consciousness, etc. Similarly, yoga can help an arthritis patient build muscle strength, reduce stiffness in the joints and improve balance, etc.
On the other hand, indulging in meditation exercises brings peace and quietness to the mind. It improves sleep quality and makes you feel more energetic.
Some other benefits of yoga on arthritis patients may include:
Reduced body aches
Lowered stress and anxiety level
Improved joint functions and flexibility
Enhanced cardiovascular health
Safe approach to yoga
If you are suffering from any form of arthritis but want to have a safe approach towards yoga; follow the below mentioned basic guidelines:
Ask the doctor first: Before enrolling or start practicing yoga, make sure to ask your doctor about the same. He may have some limitations or restrictions that you must adhere to.
Find an appropriate class: While finding an appropriate class, look for yoga classes specially designed for arthritis patients. Also, the yoga teacher must be certified and experienced.
Be vocal about the pain: It may happen that you find a pose or a stretch painful. In such a condition, be vocal about the pain. The yoga teacher will understand the same and help you modify the pose accordingly.
If you are suffering from rheumatoid arthritis that involves neck; you might want to review the idea of practicing yoga. Another way to do the same is to avoid yoga poses, stretch or twist that may aggravate neck issues
Yoga poses to ease arthritis
After consulting with the doctor, you may start practicing yoga initially at home. Here are 5 yoga poses that can ease arthritis:
Vrkshasana (Tree Pose)
Gaumukhasana (Cow Face Pose)
Setu Bandha Sarvangasana (Bridge Pose)
Balasana (Child Pose)
AdhoMukhaSvanasana (Downward-Facing Dog Pose)
Practicing these yoga asanas help you release tension as well as stiffness in the body. Since immobility in the joints is one of the main cause of arthritis. These poses not only bring movement in the joints but also improve their functions and flexibility. Moreover, practicing these asanas improves the overall health of an arthritis patient. It also enhances body posture, lowers stress and anxiety levels, detoxifies the mind and body, promotes weight loss, builds muscles, helps you sleep better, etc.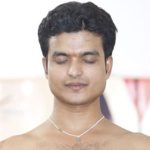 Author Bio
Bipin Baloni is a yoga teacher from India and his core specialization is in Hatha and Ashtanga Yoga. He organizes yoga teacher training in Nepal. Bipin Baloni conducts Yoga Teacher Training in India and Program Yoga Retreats in Nepal. He loves writing and reading books related to yoga, Meditation, Ayurveda and Health.